Treatments
Dental treatments

Cosmetic dental treatments
Cosmetic dental treatments Clinica Dental Idea, Costa del Sol, Spain
Teeth whitening
On the Costa del Sol, Spain, teeth whitening or tooth bleaching is one of the most popular cosmetic dental treatments. Teeth whitening is a dental procedure that lightens tooth discoloration and whitens the colour of the enamel. Due to smoking, red wine, drinking coffee, this unfortunately effects the whiteness of your teeth and this can change the way you look and feel about yourself and even help improve the quality of your life. Today there are many different methods to achieve a white smile, please contact us for further information about treatments that will suit you!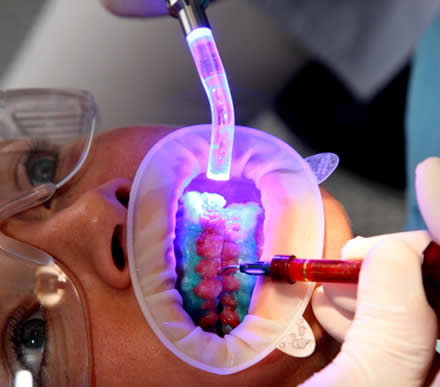 Crowns
A crown may be required when teeth are badly decayed or heavily filled or to restore lost tooth tissue or sometimes to protect what remains. Root filling can weaken and make the tooth fragile over time and will often require crowning to protect the tooth from fracturing. There are many types of crowns and many different qualities of metal and porcelain.
Bridges
One or more missing teeth can negatively affect the appearance and functionality of your smile. A dental bridge can be used to replace a missing tooth or teeth by joining it permanently to two or more adjacent teeth or implants, without the use of a denture or dental implant. Basically a false tooth is held in place by being attached to a tooth next door.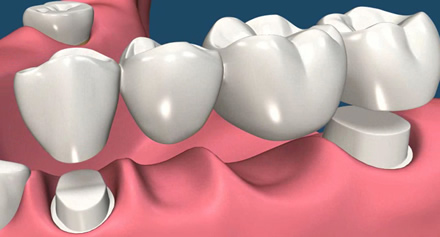 Check ups
Regular checkups and oral health maintenance can prevent the development of serious dental problems which can result in costly treatments. Our recommendation is to visit us regularly – at least once every six months – to ensure proper oral hygiene and functionality.
Cleaning
Today everybody knows how important good oral hygiene is. But few know that it is crucial for general health as well. Poor oral hygiene can lead to a variety of dental problems such as gum disease and infection. It can also give medical problems, for example; heart disease, strokes and more. Regular check ups and cleanings can prevent these problems. A routine dental cleaning, every six months, should include scaling, root planning and polishing.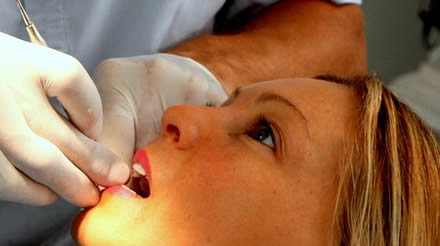 Implants
Dental implants are basically artificial roots which are anchored into the jaw bone onto which teeth can be firmly fixed. The implants are small screws made of titanium and they were actually pioneered in Sweden in the early 1960s. Dental implants can be used to replace a single lost tooth or many missing teeth. Implant supported replacement teeth look, feel and function like natural teeth.
Root treatment
A root canal treatment or endodontics is usually required when the blood or nerve supply of the tooth is infected through decay or injury. The symptoms to look out for is when a tooth becomes sensitive to both hot and cold temperatures, when it changes colour or the area is painful when pressed on. It can also produce swelling and in advance states, a serious infection perhaps with abscess and severe pain. In this state only root canal therapy can save the tooth. Root canal treatments are, thanks to modern dental anaesthetics and techniques, performed painlessly.



Periodontitis
Periodontitis or periodontal disease can, in the broadest sense, be considered any form of disease affecting the tissues that surround and support the teeth. Periodontitis occurs when inflammation or infection of the gums (gingivitis) is untreated or treatment is delayed. It begins with bacterial growth in your mouth and may end - if not properly treated - with tooth loss due to destruction of the tissue that surrounds your teeth. Plaque is the primary cause of gum disease, but is easily controlled and prevented by regular visits to a dentist.
WE ARE SITUATED AT:
CLINICA DENTAL IDEA, Ctra. de Mijas Km 3,6
Centro Idea Shopping Center
29650 Mijas (Malaga) Spain

Fuengirola, Marbella, Malaga, Mijas Costa, Benalmadena, La Cala de Mijas, Elviria, Costa del Sol, Andalucia, Spain
Costa del Sol, Dentists, Clinica Dental Ideal