Treatments
Who are we

Meet Stefan and Erica
Stefan Demling
I was born in Gothenburg, the second largest city in Sweden, which is to the west of the country where I graduated as a dentist in 1981. After some years working in my home town I felt that it was time to do something different.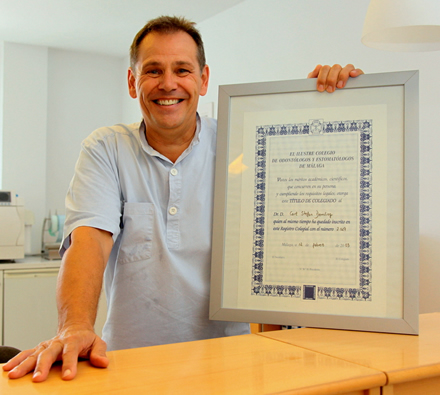 By chance I saw an advert in a dental magazine about Dubai. I had several patients who had been there and my curiosity was aroused as Dubai seemed to be what I was looking for, something new,exciting and different. My decision to leave Sweden for Dubai was quite easy even though I knew that over there I wasn't allowed to have my own clinic which i what I was used to. During my time in Dubai I worked as an employee and my patients were mostly ex-pats.
After 6 years I was back in Gothenburg in 2001, and wondering about what to do next. Sweden seemed to be smaller and the weather seemed to be even worse than I remembered, so I decided to move to Spain. Southern Spain has similar qualities as Dubai, but with the advantage of being much closer to Sweden and my relatives there.
The first 5 years in Spain I worked as an employee in a couple of different clinics, and that time was very useful as I learned a lot about Spain and how things work here. And I liked it! So, in 2007 I decided to open my own clinic, which has become a very successful enterprise - Clinica Dental Idea.
When I am not working as a dentist, I enjoy reading, sailing and spending quality time with my partner and family.
Erika Nilsson
I was born in Karlshamn, a small town in the southern part of Sweden, in the county of Blekinge or, as they say there, "The garden of Sweden". Here I studied to become an assistant nurse and, after my studies I worked for several years in a radiology department. Then I decided to move to Spain where I met my husband, and together we have two beautifull little girls.


I have been working many years as a dental nurse in Spain now - first at a clinic with several doctors and dentists where I got to know Stefan Demling. We worked together for a few years, and as I have the girls, when the little one was 1 year I wanted to start working again, Stefan needed a dental assistant at his new clinic and the job was mine!. I work on the reception, as an assistant to Stefan and make sure that the surgery and the instruments are clean and sterilized.
When I'm not working I enjoy the Spanish way of life together with my husband, our two daughters and friends.

Stefan and Erica working together

Stefan and Erica make a great team working together to give you a very pleasant experience.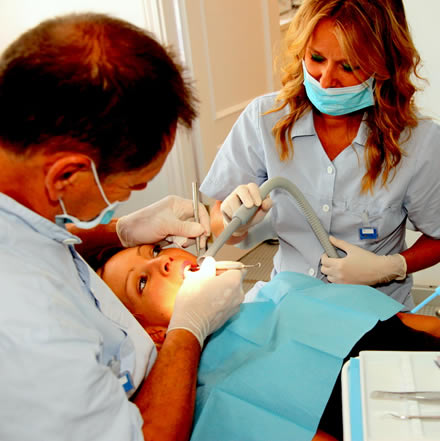 If you live on the Costa del Sol ie, Malaga, Marbella, Fuengirola, La Cala, Cabapino, Benalmadena, Elviria, Puerto Banus then your within 20 minutes maximum from our dental practice. We believe we are the best dental clinic here in Andalucia.

When you leave our dental clinic you will have had great dental care and dedicated treatments for your personal tooth needs.
We cover Fuengirola, Marbella, Malaga, Mijas Costa, Benalmadena, La Cala De MIjas, Elviria, Costa del Sol, Andalucia, Spain.

WE ARE SITUATED AT:
CLINICA DENTAL IDEA, Ctra. de Mijas Km 3,6
Centro Idea Shopping Center
29650 Mijas (Malaga) Spain

Costa del Sol, Dentists, Clinica Dental Ideal