Treatments
Smile and the World

Smiles with You
The staff
Stefan Demling
I was born in Gothenburg, the second largest city in Sweden, to the west of the country where I graduated as a dentist 1981. After some years work in my home town I felt that it was time to do something different.
By a chance I saw an advert in a dental magazine about Dubai. I had several patients who had been there and my curiosity was aroused as Dubai seemed to be what I was looking for, something exciting and different. My decision to leave Sweden for Dubai was quite easy even though I knew that over there I wasn't allowed to have my own clinic that I was used to. During my time in Dubai I worked as an employee and my patients were mostly ex-pats.
I was back in Gothenburg in 2001, still wondering about what to do next. Sweden seemed to be smaller and the weather seemed to be even worse than I remembered, so I decided to move to Spain. Southern Spain has similar qualities as Dubai, but with the advantage of being much closer to Sweden and my relatives there.
The first 5 years in Spain I worked as an employee in a couple of different clinics, a time that was very useful and I learned a lot about Spain and how things work here. And I liked it! So, in 2007 I decided to open my own clinic, which has become a very successful enterprise - Clinica Dental Idea.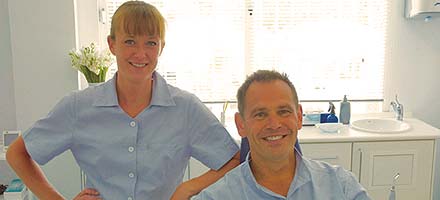 Erika Nilsson
I was born in Karlshamn a small town in the southern part of Sweden, in the county of Blekinge or, as they say there, "The garden of Sweden". Here I studied to become an assistant nurse and, after my studies, I worked for several years in a radiology department. Then I decided to move to Spain and of course I met my husband here.
I have been working many years as a dental nurse in Spain now - first at a clinic with several doctors and dentists where I got to know Stefan Demling. We worked together for a few years. I got two girls and when the little one was 1 year I wanted to start working again, Stefan needed a dental assistant to his new clinic and the job was mine! I work at the reception, as an assistant and make sure that the surgery and the instruments are clean and sterilized.
When I'm not working I enjoy the Spanish way of life together with my husband, our two daughters and friends.